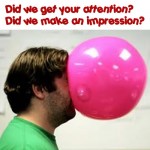 According to Global Advertising Specialties' 2010 Impressions Study, the answer is yes, promotional products are the most cost effective way to advertise. This survey interviewed 406 participants from New York, Chicago, Los Angeles, Philadelphia, London, Sydney, Toronto and Montreal metro areas about promotional products they had received on behalf of Advertising Specialty Institute (ASI).
Some interesting findings:
-The average cost per impression of a promotional product is at $0.005
-41% in the US said their opinion of the advertiser on a promotional product was more favorable
-Nearly two-thirds of respondents said if they received a promotional product that they did not want to keep, they passed it-on to someone else.
Visit theLeashables website to purchase some of the best quality promotional products available. To find-out more about the survey, go to the article on the ASI website