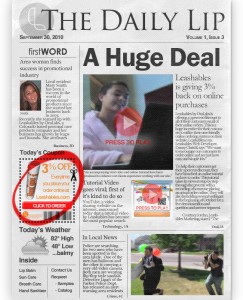 Leashables by OraLabs is offering a 3 percent discount to all of their customers on all of their online orders. This is a huge incentive for their customers to utilize their user friendly online ordering system on their website, Leashables.com. Leashables Web Developer, Danny Chrastil, says "We want to encourage our customers to order online and see just how easy and simple it is."
To help their customers get their 3 percent discount, they have launched an online tutorial on how to order. This tutorial takes its viewers step-by step through the process with a recording of someone placing an actual order online. They will also be holding several webinars in the beginning of October for a live demonstration and question and answer segment.
Courtney Jordan, Leashables Marketing, stated, "The promotional products industry is becoming more advanced in technology. This is our way of helping our customers keep up and save them some money along the way." To see how you can save 3 percent on your order with Leashables, visit their website at www.leashables.com.